Last year for a previous customer I wrote an article/post about WebsphereMQ Best Practice with JBoss EAP 6. Today we will make almost the same stuff but with JBoss EAP 7, WebsphereMQ Sample IVT application and running on Docker. I assume you know basic command about Docker.
Howto run JBoss EAP 7 connected to WebsphereMQ both running on Docker
Prerequisites
For this lab, you need the following software :
Warning, it is trial / demo only, a production deployment requires the purchase of a subscription for JBoss and a license for IBM
Clone git project
First of all, clone the git repo project.
EAP 7 image creation
We have to download the JBoss EAP 7 binary and we will create the correct image of EAP 7.
Copy binary file to JBoss-WMQ/jboss directory and go to this directory to build image.
the Dockerfile
Information about this image
Admin User
Application and RAR

Demo application and WMQ Ressource Adapter come from official WMQ tgz.
We download it and install Java rpm package only and copy rar and ear to correct JBoss deployment directory

JBoss CLI

The CLI script is composed of two specific part :

Resource Adapter configuration

some system-property for configure RAR (user/pass/channel/queueManager, etc…)

Deployment overlay is used to adapt/provide correct configuration from JBoss to application

jboss-web.xml to adapt war configuration
jboss-ejb3.xml for providing ejb configuration

It is running with embed-server mode (offline)
the CLI file
WMQ image creation
Now we create the WMQ Docker image, we will re-use a public image to build our own version with custom stuff. Go back to our first git repo to build our own image
the Dockerfile
We use a small configuration for WMQ, alice account can connect to wmq and we create a simple WMQ Queue too.
the configuration file
Docker compose to run demo
At the end, we use docker compose to run both parts (JBoss and WMQ). We setup some environment variable for more flexible configuration (websphere.hostName and websphere.port for exemple).
Run it and check it
Use docker-compose up to run both WMQ and JBoss
and go to IVT URL http://localhost:8080/WMQ_IVT/IVT for the web result.
web result
The Application page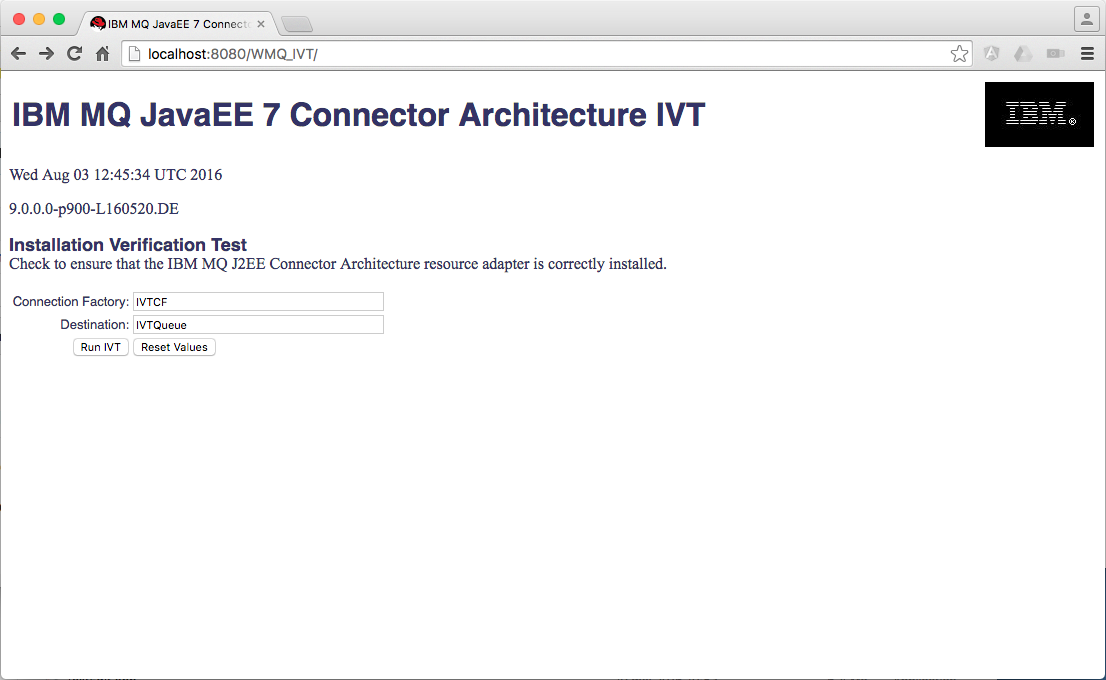 The Result page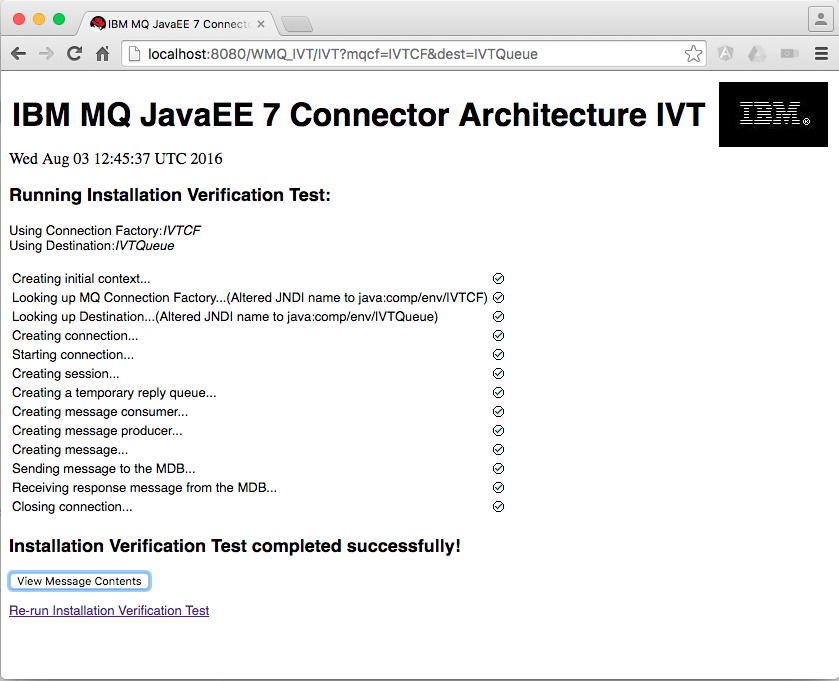 The JMS inspection (View Message Contents) page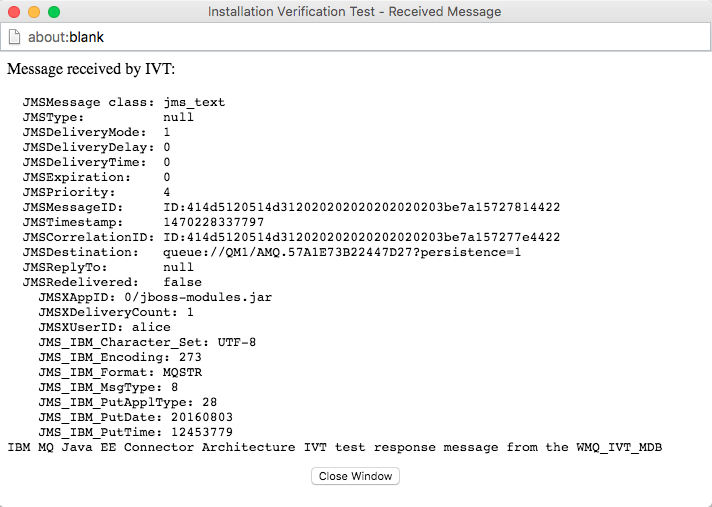 and output log result
You should get an output like this
Conclusion
JBoss EAP 7 is very flexible. I used the first time the Deployment Overlay it is a very cool feature if you cannot modify the ear or war package. We also use the embed-server to configure JBoss instance offline and during the docker build. I would like also thx IBM Messaging team for WMQ Docker hub img, because this image was very useful to prove the correct JBoss and WMQ integration for this demo.
Useful links