For a while, I develop during my free time for Rhiot project with my Red Hat colleague Henryk. We started to develop several Camel components like (kura, pi4j, bluetooth) with others volunteers. Now we focus to develop and integrate those components for Kura Platform. Kura is an OSGi Platform designed for IoT, it can run on RaspberryPi, BeagleBone or Intel Edison device. Kura Platform has got lot of embedded services for IoT context (GPIO, USB, I2C, Cloud Service, etc…) In this post we will see :
How to use Kura Rhiot Quickstart into emulator mode and real life mode.
Requisites
Kura Setup
Emulator setup
First of all, you have to setup your Eclipse workspace with Kura eclipse workspace available for download. Just follow instruct strictly.
To avoid any compilation problem please downgrade your JRE to a 1.7 version
You can test and configure your workspace with Heater Demo Project
Camel and Rhiot configuration into Emulator
Target Definition configuration
Before setup Camel and Rhiot into Kura Emulator, you have to download several java libraries :
After create a new folder into target-definition project like camel/2.16.0 and copy all previous downloaded libraries into it.
Open Target Definition panel and Add... a new Installation mapped to the new camel/2.16.0 folder.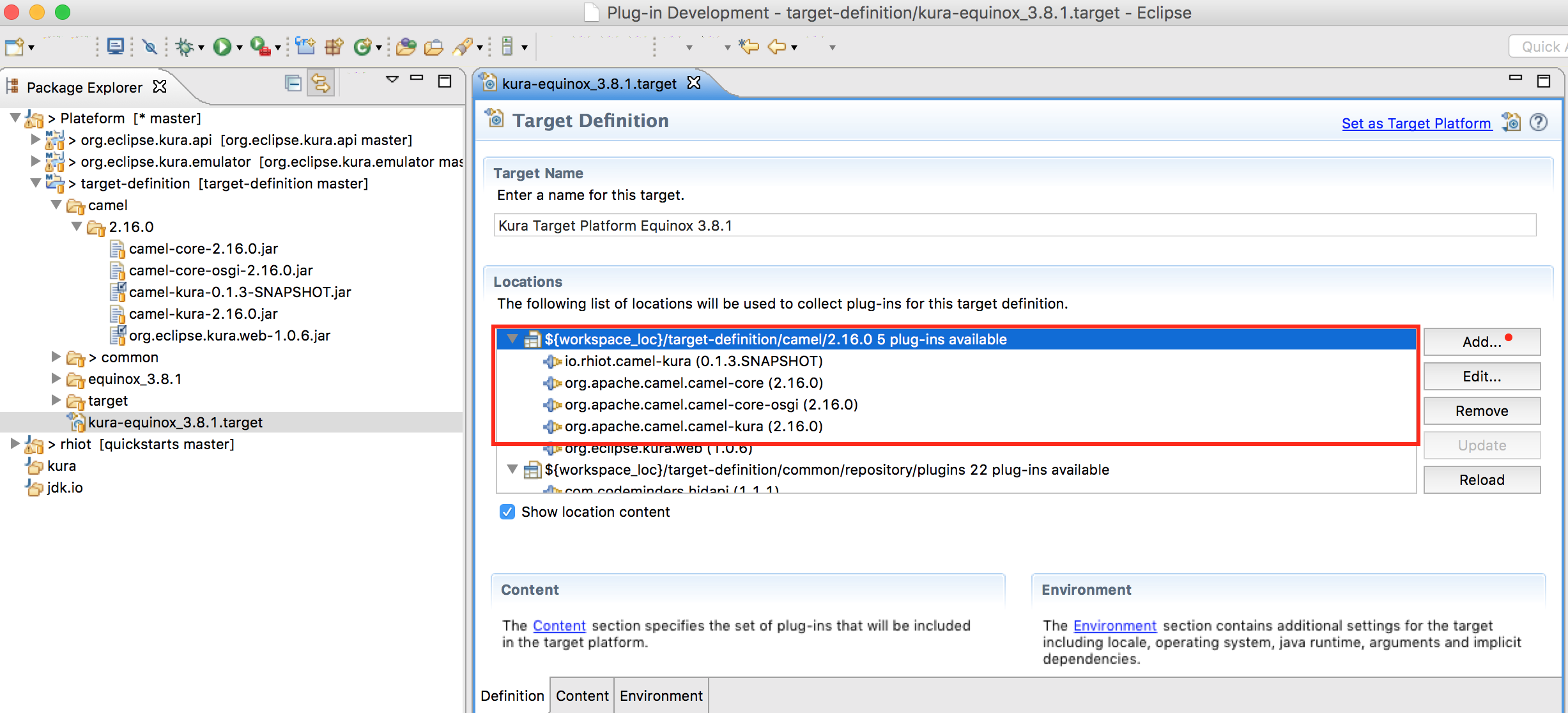 Verify that Target Content loads correctly Camel and Rhiot libraries, click into Content tab to check.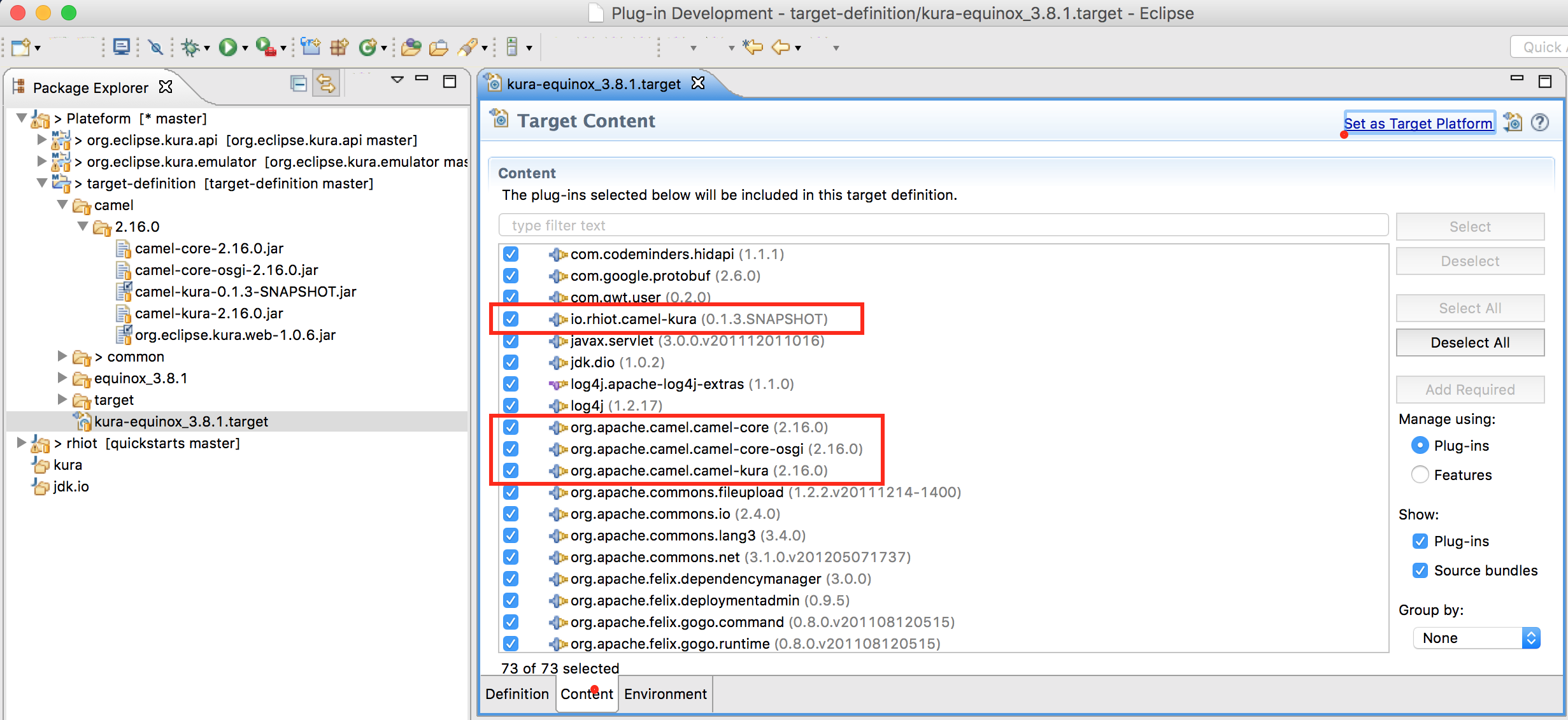 Save configuration and click the Set as Target Definition action (top right).
Launch configuration
We just finish to setup Target Definition stack, now we will see how to run it with the Launch command.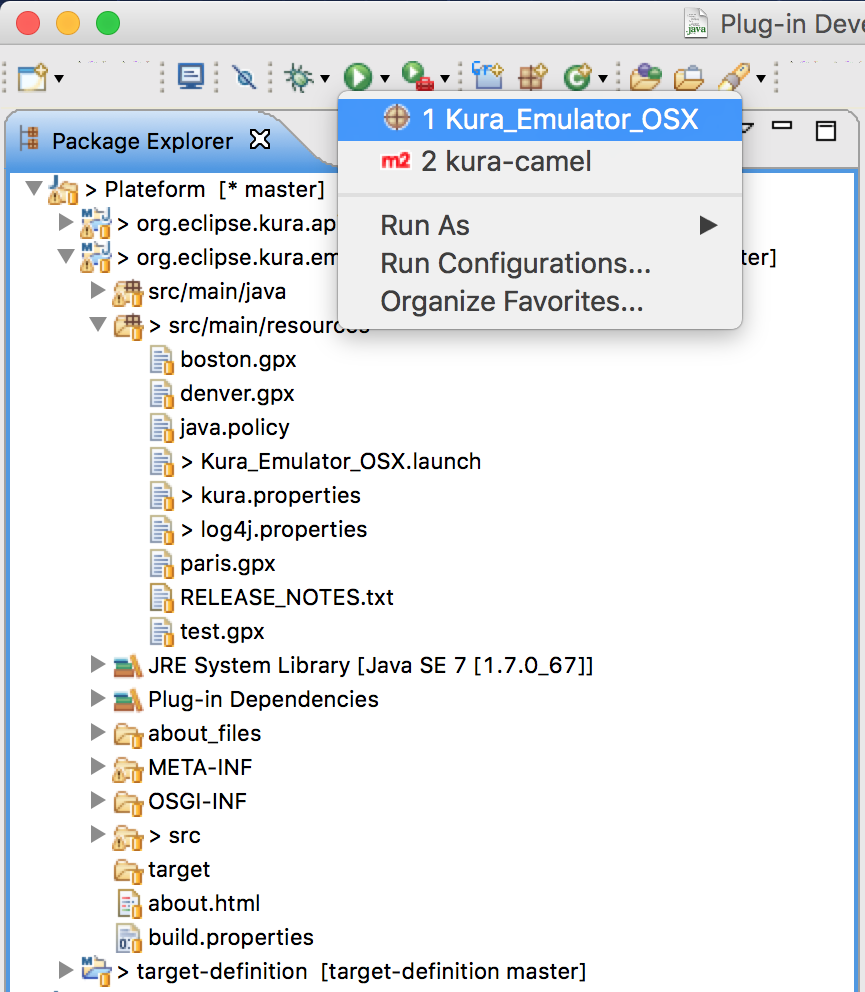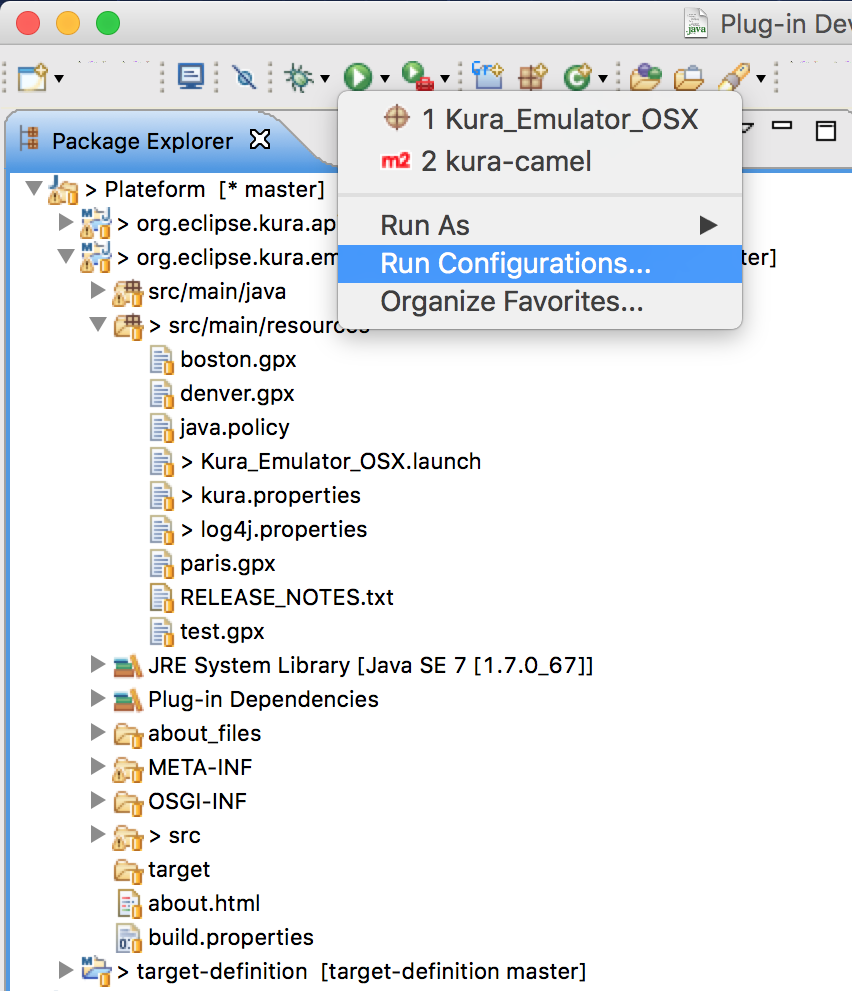 Edit it and select correct libraries once again.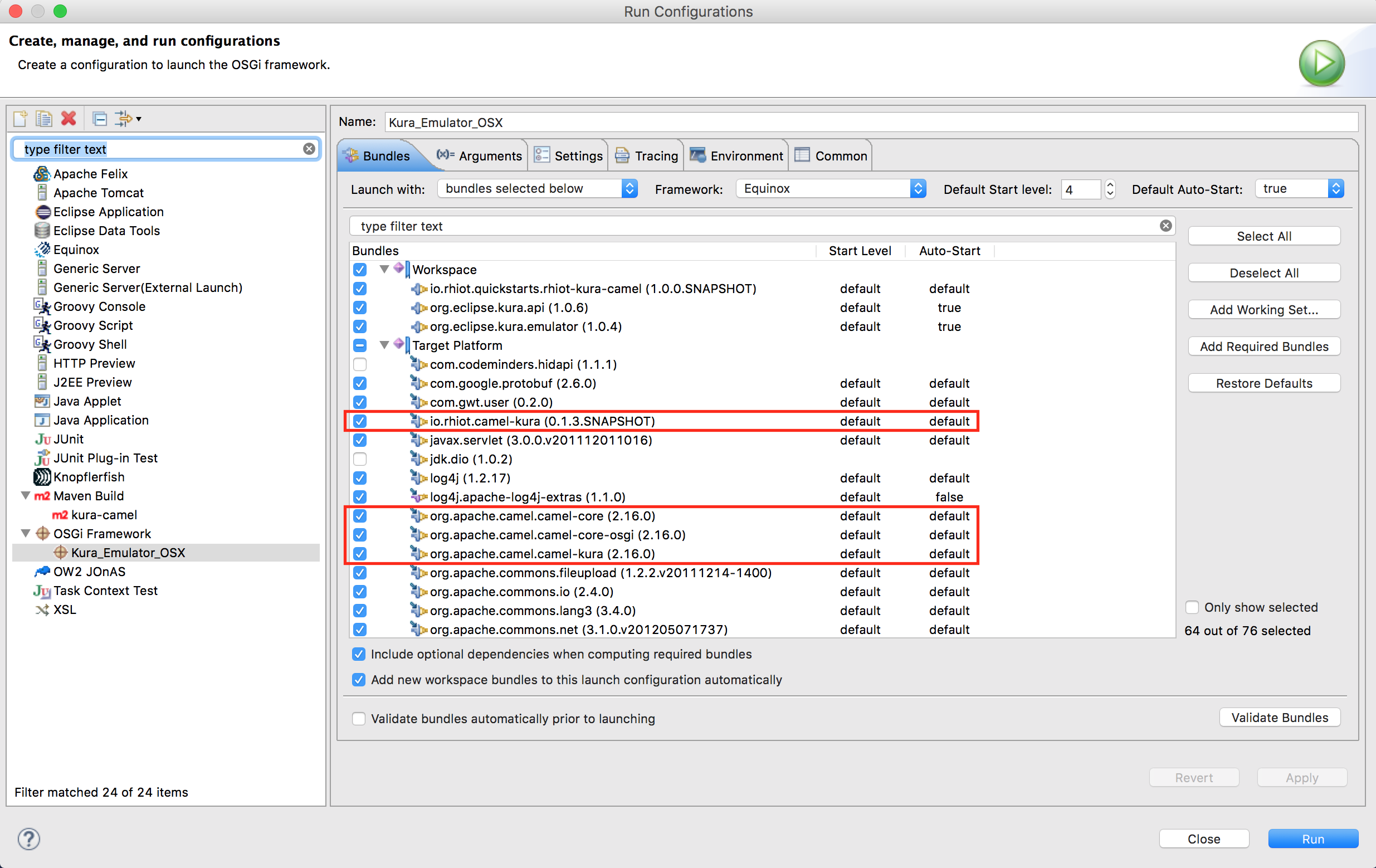 In order to check Installation, just run the Launch command as usual and check bundles loading via OSGi ss command.

Cool everything looks good to run our example !!!
Test an run Kura Rhiot quickstart into emulator.
Import Quickstart Sample
Download our Kura Rhiot quickstart directly from github repository.
Change GatewayRouter class with
GatewayRouter contains our Camel route as usual. It is a OSGi Service. Change GatewayRouter.xml file with
This OSGi file is needed to start GatewayRouter service with Service Component Runtime mechanism. Because we use SCR an not BundleActivation stuff.
, change io.rhiot.quickstarts.kura.camel.GatewayRouter.xml file with
This last file provides configuration attributes used by GatewayRouter route, like camel.kura.gpio.ouput.id.
Compile via maven mvn clean package -Dmaven.test.skip=true to regenerate some MANIFEST and OSGi stuff via Bnd maven plugin.
You can also checkout remote branch https://github.com/rhiot/quickstarts/tree/kura-gpio.
Emulator run
Use Kura_Emulator_OSX Eclipse to run Equinox OSGi.
Output should looks like
You can change some parameter via the Kura WebUI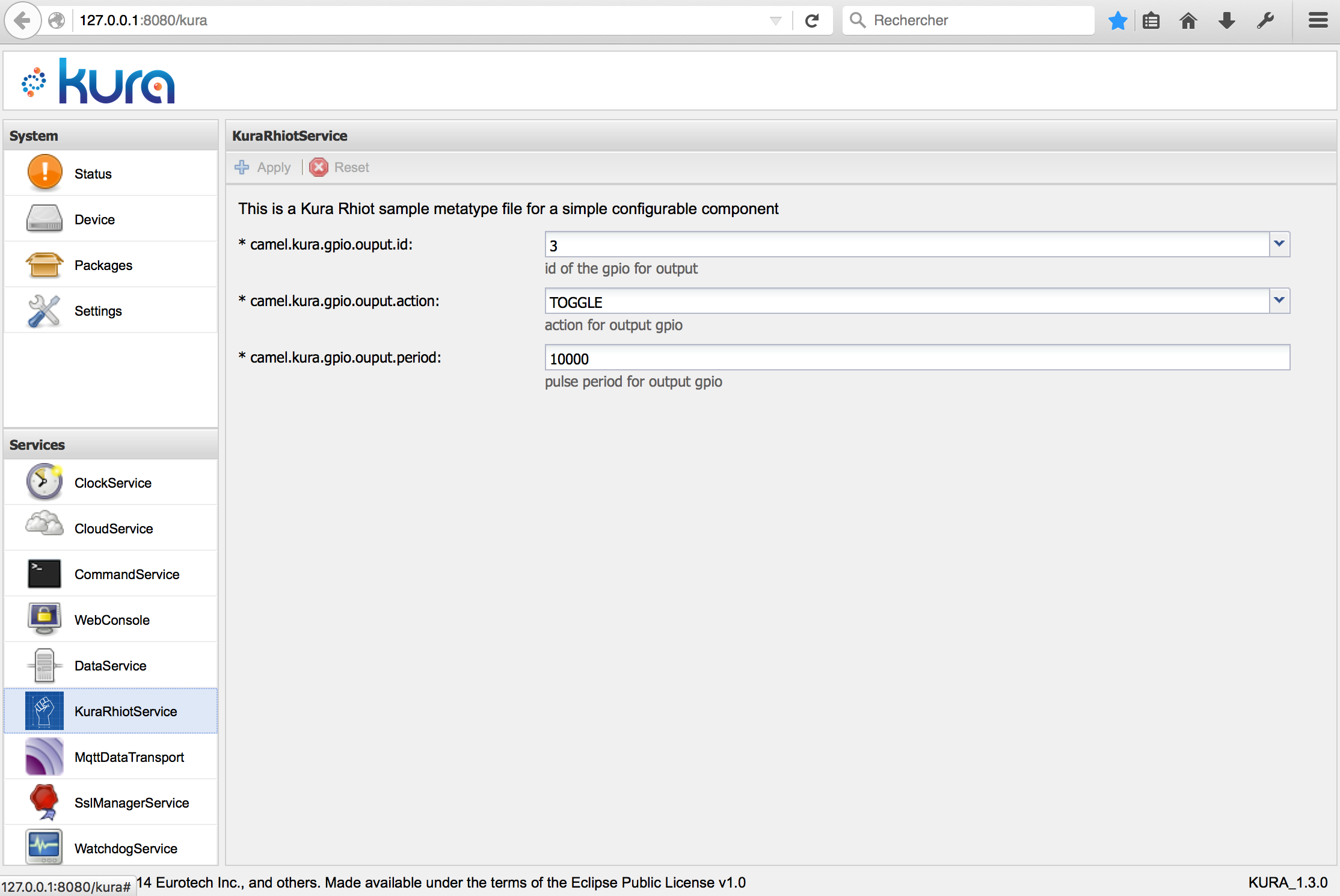 Execution IRL
Let's run it IRL
Wire, LED, RaspberryPi
Follow schema below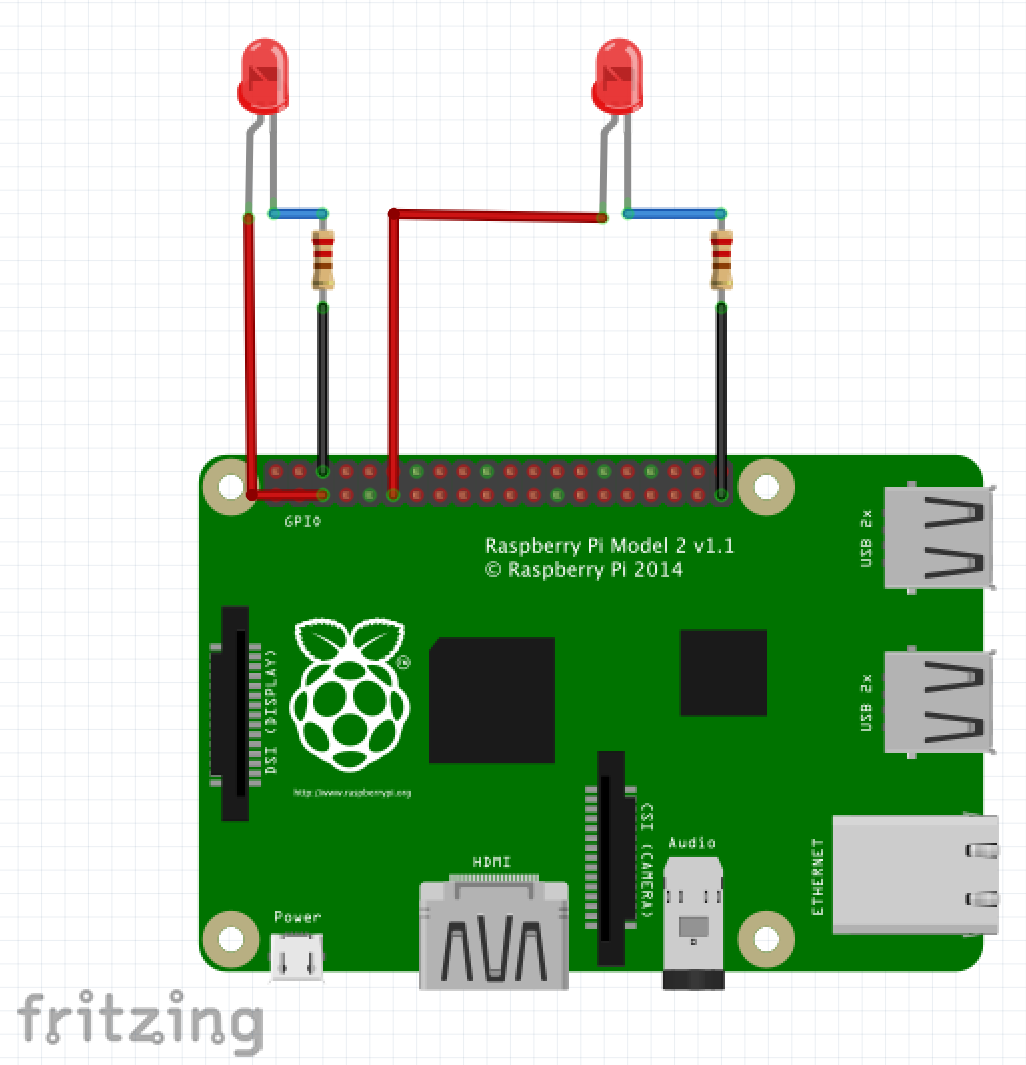 Bundles installation into RaspberryPi
Compile Kura-Rhiot Sample via common mvn clean package
After you have installed Kura deb into RaspberryPi you can start and install bundles.
To start kura service:
you can use tail -f /var/log/kura.log to check Kura Platform running.
Copy to RaspberryPi and Install all bundles via command line. Connect to Kura OSGi via telnet protocol:
And start all INSTALLED bundle
Output should look like this
YouTube Demo
Conclusion
Kura Platform is really interesting OSGi Platform. As we prove today, the setup is not too complex if you know what you do. I love OSGi technology for its modularity, its flexibility and its robustness. If we can plug Camel and Rhiot bundles, I think we can develop some cool new components, applications and products. Let's develop and contribute more for Kura , Camel and Rhiot project too. Stay tuned !!!
Please feel free to send me your feedback see Apropos.
Useful links